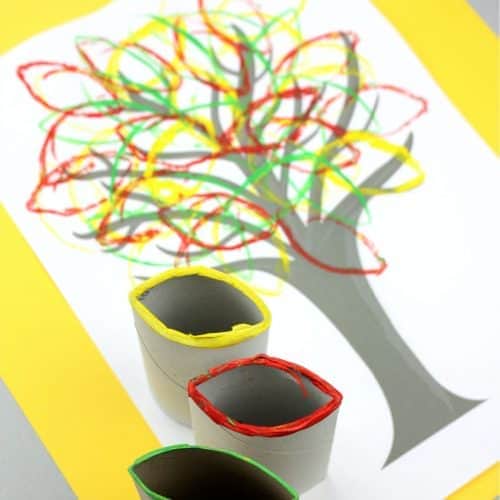 Wonderfully easy and using material that would otherwise end up in the recycling, this cardboard tube fall tree is really quite beautiful!
Super easy too! I have created a free tree template for you to download and print. You can of course paint your own tree if you prefer!
We have been in tree mode lately and have also created wonderful trees with foil and corks and q-tips, all as easy and beautiful!
They are all included into the instruction video at the end of this page!
What materials do you need to make this cardboard tube fall tree?
Cardboard tubes
Paint – we use paint like this – amazon quick link…
Thick paper or cardboard
A painted tree or our free tree download (see below)
Once you have your tree painted or printed out, the rest is easy and super fun!
Fold your cardboard tube in half, squirt some paint onto a plate or board and get busy printing!
The results are beautiful!
More fall tree ideas:
Q-Tip Leaves make wonderfully beautiful fall trees!
Printing trees with corks – wonderfully simple!
Foil printed autumn trees – foil makes incredible leaves!
Apple tree printed with sponges and corks. We love a good apple tree crafts!
Walk a big fall tree! This is a wonderful sensory painting experience!
Paint fall trees with big bubbles! Bubbles make great leaves!