Very many years ago my brother's teacher – Dorothy – made these Christmas Angels with her entire pre-school class! She made 20 angels at a time and they spent December hanging on the walls of her classroom! I thought they were absolutely beautiful!
Dorothy would do this every year and it was one of my 'school' Christmas highlights! Now as an adult – and a mother – I am acutely aware that these angels were an absolute labour of love!!
I managed to track down some photos from the archives at Bedfordview Pre-School, taken in 1983 – which was a little before my time, but definitely Dorothy's Angels! Thank you Erica for your help!
If you have some time and are wanting to create something wonderful with your kids this is the project you must try!! Children just adore painting things in their own image!!
Looking for something angel-themed – but slightly smaller in nature? Try these salt dough clay angels! They make wonderful Christmas tree ornaments!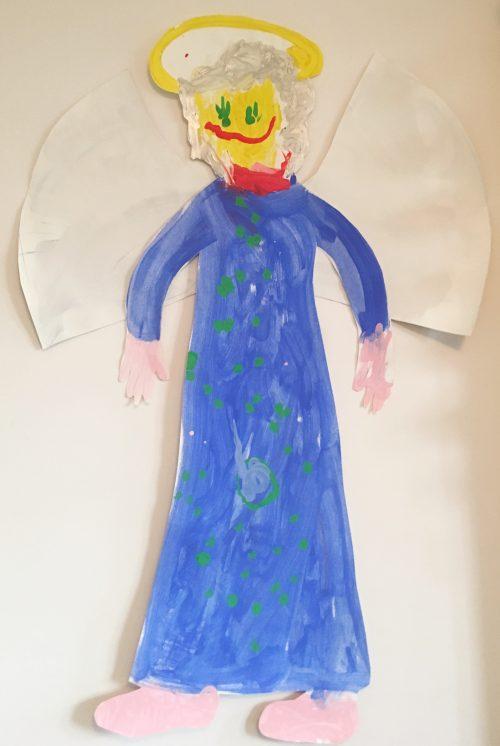 Materials for Life-Size Christmas Angels:
A human-sized piece of firm cardboard. If you are lucky and are able to get one wide enough, you can use one piece – it has to be wide enough to make "snow angel" arms…
We used two pieces, one for the body and another for the wings. I have a craft supply guy in the form of a DiY shop – these rolls were his wallpaper cut-offs – wallpaper is great to use, the back is usually white and it is firm. If you use a normal paper roll the paper will tear once painted!!
Paint – Poster Paint will do!
Brushes and Sponges. This is my Mom's idea – when painting large surfaces with kids it is great to use kitchen sponges. It's much faster than using a brush – and kids attention is only so long…
Scissors and glue and tape (to tape on the wings if using two pieces)
An angel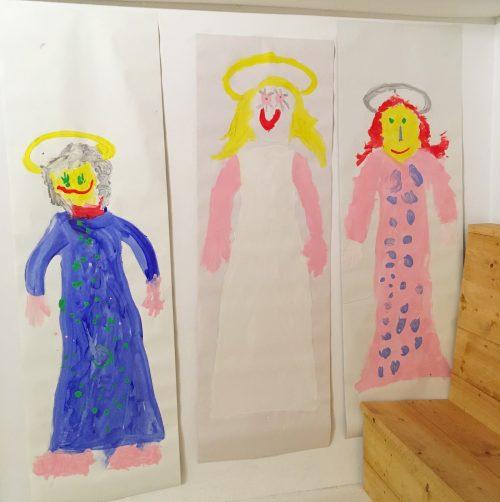 Easy Steps to create a life-size Christmas Angel:
Assemble the cardboard and trace around your body.
Don't forget that angels have arms too!! Their wings go behind!
Once you have traced around your body, make some wings.
Our video shows how to make wings on a separate piece of cardboard/paper.
If you are using one piece, after you have traced around your body, turn onto your front, stretch our arms and create 'snow angels' – like in our video.
Now create your angel – take some liberties!! We created long dresses – even though most of us were in pants!!
Once your angel is dry, cut out and hang up!!
Beautiful!!
Looking for more Christmas inspiration?