This wonderful egg carton flower craft is such a good way to create beautiful little flowers from your recycling.
They are so easy to make and can be added to anything with a little glue!
Each year we create an Easter tree, a place for us to hang our decorated eggs, flowers, and other springtime creations. This year we decided to add these little flowers to the branches.
Egg Carton Flower Materials:
Egg cartons – cut into bits and pieces
Glue – we used our hot glue gun, but any glue will do
Paint in various colors
How to make your own recycled flowers
This is a super easy and beautiful idea!
The first step is to cut your egg cartons into little bits. Make sure you keep the rounder bits and the pointy middle pieces whole as they make perfect flowers.
Once you have all the pieces ready stick them together.
This is where you should use all kinds of creative imagination. Flowers can look like anything… there is no right or wrong. Get sticking and see what you come up with!
Some flowers are perfect as is – with a little cut here and there. Other flowers can be built up from 3 or 4 parts.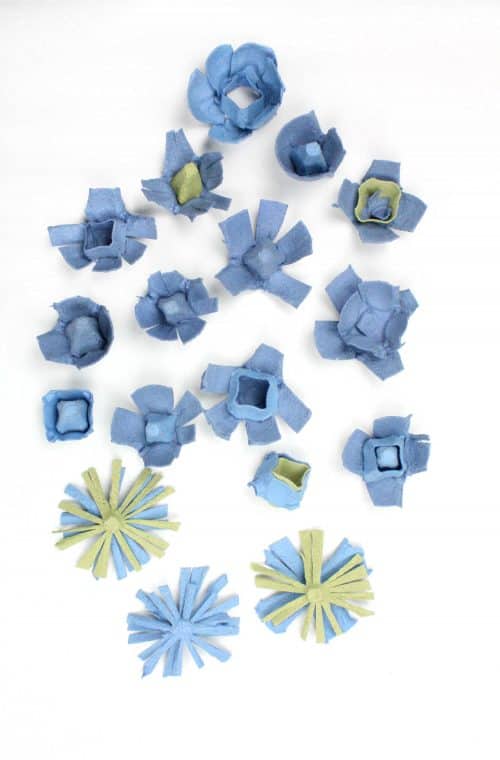 When your creations are completely stuck together and dry it is time to add some color!
Paint your flowers as you wish! We stuck to pastel colors this time, but any kind of color looks great!
Once your flowers are painted and dry you can add them to sticks and create a little blossom-like effect.
You could also stick these flowers onto the top of a stick as we did here with these pinecone flowers. It would make a fantastic bunch of flowers to give as a gift.
We stuck our flowers into our Easter tree.
Other recycled craft ideas we think you may enjoy: