Folding and flying. A perfect activity to keep little ones – and big ones – busy for a while and is the perfect rainy day indoor activity!
We started by making a few planes with the objective to see who can make the best plane and which one can fly the longest and highest. As our skills became more refined, we needed a further challenge.
That is when the point-scoring targets were set into motion.
You can make your own targets by using a big piece of cardboard or box. You can make individual targets if you do not have a piece of cardboard big enough for all three targets.
We cut holes of different sizes into a big piece of cardboard, the smaller the hole the higher the score. Full instructions below!
GAME ON!!
In order to fly you need to first make the perfect airplane. We found a selection of brilliant templates, videos, and examples to make our planes! I've shared the best ones below, just click on the links to take you to the instructions.
From Easy Paper Origami this instruction video shows you how to make an airplane that flies far and fast!
These paper airplanes from Frugal Fun 4 Boys include full video instructions.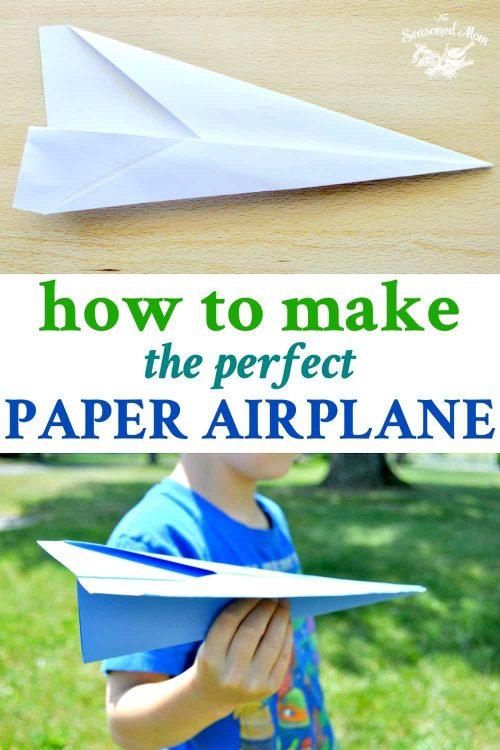 The Seasoned Mom provides a full step by step instruction guide to this far flying airplane!!
This video from Science Buddies includes instructions to make an easy airplane launcher!
Airplane target flying game materials:
A big piece of cardboard or a cardboard box – to make the targets
Plates, bowls or other round things to create a circle template
Scissors to cut out holes – or a Stanley knife for cardboard
Black marker to write target value
Instructions to make your own paper airplane flying game
On your cardboard create a place for at least two or three holes by using a template or dinner plate
Cut out the holes and add the values to each. The smaller the more difficult therefore the higher the value!
When you are done, hang up your target in a doorway and let the games begin!!
Looking for more energy busting rainy day activities? Try these ideas!
Pom Pom racing is one of our favorite competitions and these animal games will keep the entire family laughing!